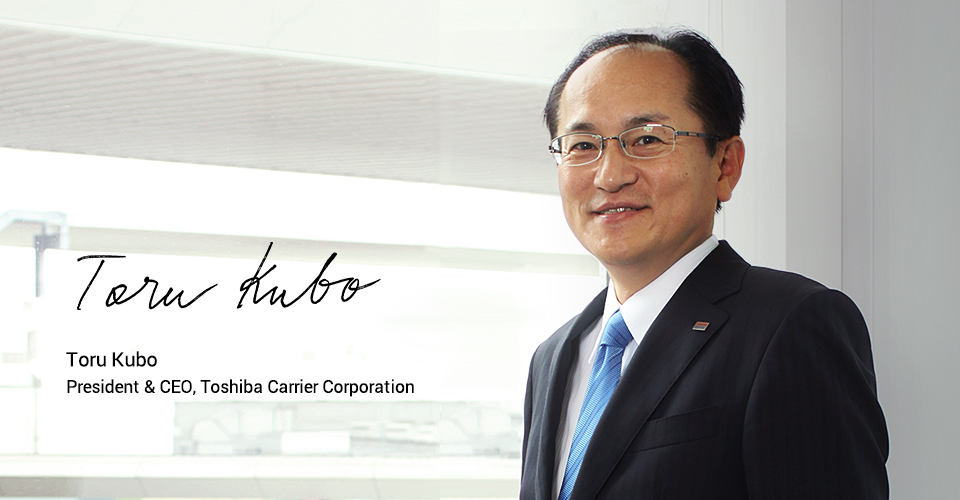 To our valued customers:
It is always my great privilege and pleasure to serve you and offer our products and services. I truly appreciate your business with us and am grateful for the trust you have placed in us.
In Japan, Toshiba Carrier, with its "B2B One-Stop solution" mechanism, offers comprehensive services that cover development, manufacture, sales, installation and maintenance for better serving our valued customers.
Outside Japan, Toshiba Carrier has been promoting business development by establishing manufacturing bases in China and Thailand, and leveraging the world-wide distribution network of Carrier Corporation, the alliance partner and a shareholder of Toshiba Carrier. The Toshiba Carrier Group recently added to the list of its overseas affiliates Toshiba Carrier Europe S.A.S. in Montluel, France, and Toshiba Carrier North America, Inc. in Atlanta, Georgia, United States of America, with the aim of planning, designing, developing region-oriented products and providing sales engineering operations for further acceleration of overseas business development.
The HVAC-R business is expected to mark further growth throughout the world, especially in the emerging countries. To become a winner in this dynamic marketplace, we must keep evolving and innovating our technology with a "sky-high vision" and go beyond the existing concepts, mechanism, and business domains. We are committed to offer the highest quality products, systems, and services featuring our signature heat application solutions which cater to needs from customers. Our heat pump technology is obviously the backbone of the solutions in various areas we offer. It is our ultimate goal to contribute to the society and the global environment through our business operations and to grow as a global leader in environmental initiatives.
We also understand that where there is an innovation, there is a "down-to-earth mindset" for stable business fundamentals. In this sense, we are also committed to corporate social responsibility based on our position to place our highest priority on health, safety, and compliance.
In closing, I would like to stress that you may find in our DNA the tireless innovative spirit as the inventor of world-first inverter-based air conditioners for pursuing technologies to optimize our solutions for different applications and environments as well as the passion for creating and offering solutions that always meet or exceed customers' needs. We will endeavor to make the most of collaboration with our customers, suppliers and business partners inside and outside Japan and offer as a "heat pump solution company " various products, systems and services with added value for our valued customers.
Sincerely Yours,
Hirokazu Kondo
President & CEO, Toshiba Carrier Corporation