Mitigation of Climate Change
The Toshiba Carrier group is endeavoring to reduce greenhouse gas emissions at domestic and overseas bases. However, energy consumption in non-manufacturing departments tends to increase with reinforced development/testing facilities associated with the group's business expansion. As part of reduction measures, efficient use of testing/development facilities and introduction of highly-efficient AC, heat source, and LED lighting systems were promoted for minimizing energy-derived CO2 emissions. The group reduced its CO2 emissions per unit in FY2016 by ca. 73% compared to FY1990, attaining the goal set for FY2016.
Energy consumption in FY2016 (CO2 equivalent) [by facility]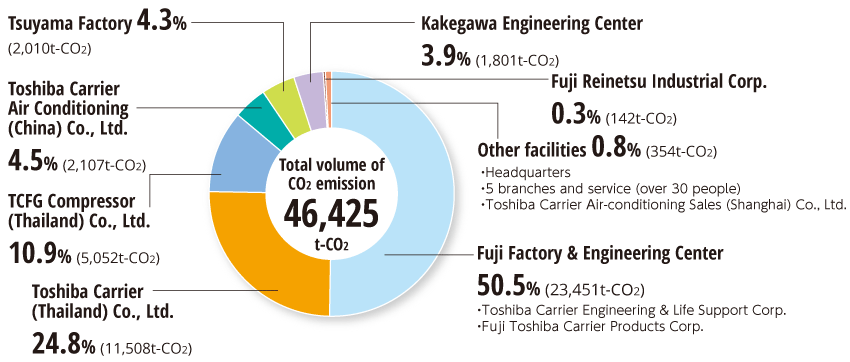 Trend of Total Greenhouse Gas Emission / Energy-derived CO2 Emissions Per Unit Consumed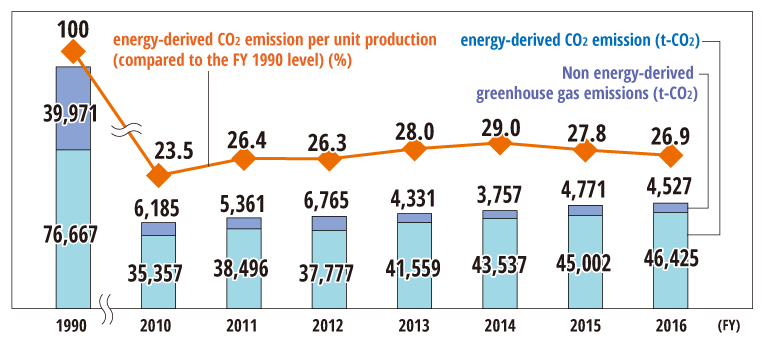 Effective Use of Resources
The Toshiba Carrier group is committed to reducing the amount of waste with its thorough waste sorting initiatives. The total amount of waste generated per unit in FY2016 was reduced by 69% compared to the baseline in FY2000. In the course of its efforts toward zero emissions, the group achieved in FY2016 0.13% of the ratio of the final disposal volume over the total generated, well ahead of its target value set at 0.5% or less. The total amount of waste generated in FY2016, however, rose year-on-year, as a result of increased production in Toshiba Carrier (Thailand) Co., Ltd.
Total amount generated in FY2016 [by facility]

Changes in the approximate total waste generated and consumption rate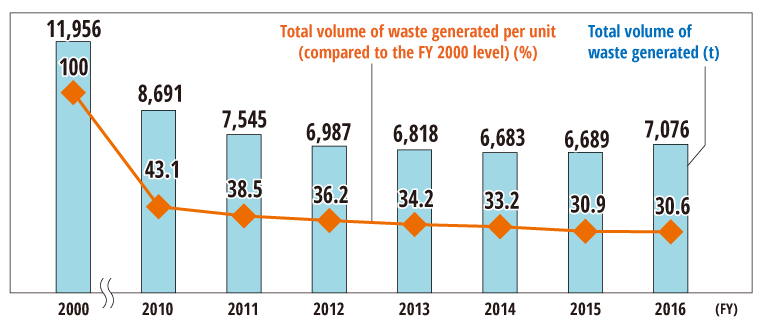 Management of Chemicals
The Toshiba Carrier group strives to "minimize the use of chemicals, reduce or replace with alternatives where possible", and "properly manage all such chemicals". As a result, amount used and emissions of chemicals have significantly decreased. Total emissions in FY2016 were reduced by ca. 91% compared to the emissions in FY2000, the baseline year. In addition, soil and groundwater at manufacturing bases have been assessed; in particular, intensive continued efforts in purification and monitoring have been carried out at the Fuji Factory & Engineering Center and Tsuyama Factory, where some chemical contamination was found previously in soil and/or groundwater.
Output volume in FY2016 [by facility]

Trend of Chemicals Emissions