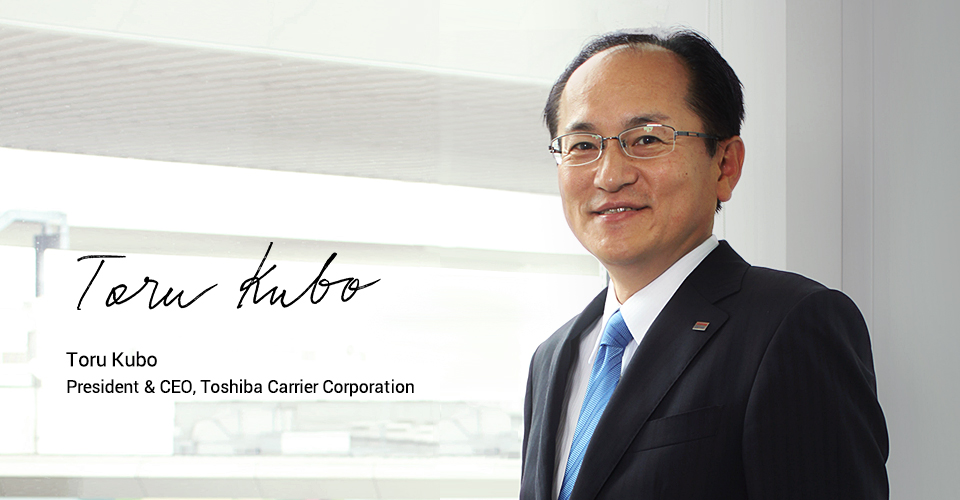 To our valued customers:
It is always my great privilege and pleasure to serve you and offer our products and services. I truly appreciate your business with us and am grateful for the trust you have placed in us.
In Japan, Toshiba Carrier has established its "B2B One-Stop solution" mechanism, where we engage in various activities that cover development, manufacturing, sales, installation and maintenance of HVAC-R products and systems and offer comprehensive services for better serving the needs of our valued customers.
Outside Japan, Toshiba Carrier has promoted business development by establishing manufacturing bases in China, Thailand and India and sales engineering centers in France and the U.S., and leveraging the world-wide distribution network of Carrier Corporation, the alliance partner and a shareholder of Toshiba Carrier. In addition, the company has been accelerating the expansion of its overseas business with various growth programs; Toshiba Carrier Air Conditioning (China) Co., Ltd. (TCAC), a subsidiary in Hangzhou, China, has completed a new headquarter / factory complex in a new location for bolstering its manufacturing and R&D functions. Toshiba Carrier Air Conditioning Europe Sp. z o. o. (TCAE) has started its operation in Poland to enhance its business foundation and presence in Europe and address a growing demand in Europe for HVAC and air-to-water products utilizing highly energy-efficient heat pumps.
The HVAC-R business is expected to mark further growth throughout the world, especially in the emerging countries. To become a winner in this dynamic marketplace, we must keep evolving and innovating ourselves and "be a creator of the future". At Toshiba Carrier, we, as a global enterprise creating values through environmental initiatives, continue to be committed to offer the highest quality products, systems, and services featuring our signature heat application solutions which respond well to needs of our customers. The heat pump technology is one of the promising sources of renewable energy, and is obviously the backbone of the solutions in various areas we offer. It is our ultimate goal to accomplish sustainable development goals (SDGs) and make contribution toward the creation of a sustainable society through our entire business operations offering new directions and values with our heat pump technologies going forward.
We also need robust business fundamentals that are "ready for the future" and allow us to continue our efforts to innovate. In this sense, we are also committed to corporate social responsibility based on our position to place our highest priority on health, safety, and compliance.
The history of Toshiba's HVAC business is all about tireless pursuit of improvement in its technologies from the viewpoint of functionality and environmental consideration, as exemplified by the development and commercialization of the world's first inverter AC system. As a long-time engineer in the HVAC product design and development since joining the company, I take a great deal of pride and passion in "monozukuri, the act of creating products. It is my hope that Toshiba Carrier, with this pride and passion, will continue to develop and offer its products and services that excel others. Furthermore, learning from my previous experience working on the sales side, I understand that we must continue our efforts to offer our customers the solutions that meet their needs in order to win trust from them. I strongly believe such trust from our customers is the integral part of our business fundamentals that allow us "get ready for the future" and "be a creator of the future".
We will endeavor to make the most of collaboration with our customers, suppliers and business partners inside and outside Japan and offer as a "heat pump solution company" various products, systems and services with added value for our valued customers.
Sincerely yours,
Toru Kubo
President & CEO, Toshiba Carrier Corporation