Universal Smart X —— an air cooled chiller system which achieved more energy savings through industry-leading operating efficiency and flexibility among wide-ranging temperature environments, from air conditioning to industrial processes.
FEATURES
HIGH EFFICIENCY WITH INVERTER COMPRESSOR
NEW DC TWIN ROTARY COMPRESSOR
Thanks to the new DC twin rotary compressor, the UNIVERSAL SMART X series achieved further improvements to energy efficiency. The new compressor not only improves the motor but also reduces pressure loss. Excellent operating efficiency can be reached under both high and part loads. Otherwise, capable of wide capacity control allows the system to operate stably at very low loads. Each rotary compressor can decrease its capacity down to 20%. Together with no-of-compressors control, each modular unit can decrease its capacity down to 5%. Based on these advances, the new DC twin rotary compressor brings the highest level of IPLV7.1* in the industry!

* For high EER type 30hp module unit, based on AHRI550-590.
HIGH PART LOADS EFFICIENCY AT MULTIPLE SYSTEM
Excellent part loads performance is applicable to multiple unit system too.
For example at 40% loads, system's capacity control is not like...
But like below to optimize efficiency using heat exchangers as much as possible.

* Example for the system with ten 50HP module units.
SPACE-SAVING INSTALLATION
Optimum air flow with advanced X frame. Easy installation in small spaces.
Installation space has decreased by 58% compared with the conventional chillers, providing enough capacity increase in the same space.
Space-saving design makes an easy replacement from a system using a cooling tower.

* Compared with the space needed to install a system for a 1200kW cooling load.
HIGHLY-RELIABLE MODULE UNIT SYSTEM
Adopting UNIVERSAL SMART X modular type chiller can avoid risk of system shut down or sharp capacity decrease at the time of unit trouble or maintenance work. Furthermore, capacity drop risk can be minimized because each module unit has four independent refrigerant circuits.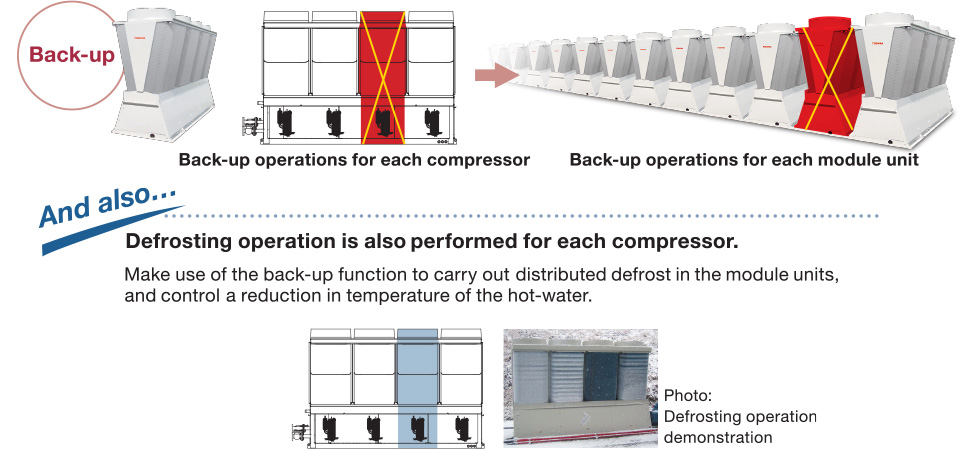 VOLTAGE/CURRENT VOLUME CONTROL

(BYPASS FLOW OPTIMIZATION CONTROL)
In addition to the operating control through the water temperature detection in the original model, new operating control via flow rate detection was added to make the bypass flow approach just about to"0". Contribute to energy-savings for both heat source machine and entire system. Transport power is greatly reduced through control coordinated with the load!
STANDARD HARMONIC SUPPRESSION FUNCTION

(ACHIEVED 99% POWER FACTOR)
Electrical harmonic current suppression function comes as standard. Not only reduced costs by eliminating additional installation for the harmonic current suppression, but also brought power factor up to 99%.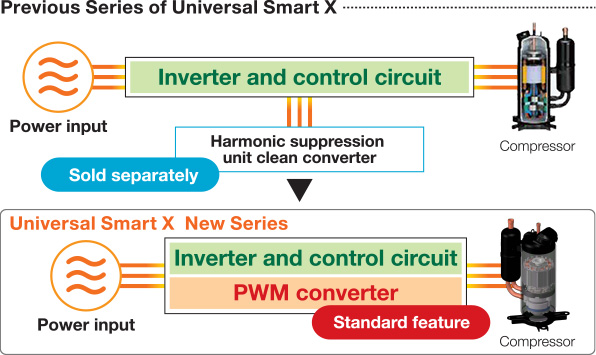 FLEXIBLE CONTROL OF UP TO 6,400 HORSEPOWER
Up to 128 UNIVERSAL SMART X module units can be combined and operated together.

SUPERIOR SYSTEM MANAGEMENT
Module controller, group controller, and Web monitor are now ready for users to manage and save energy.
For example, you can even monitor the following!
Simple manufacturing heat, power consumption
Operating capacity
Water supply temperature
Error history

WIFI DATA ANALYSIS
Wireless LAN function comes standard in the module controller. Dedicated application collects data, like power consumption and inlet/outlet temperature, on a device, like a tablet, allowing for the study of optimal operations.

* The machine is not designed for use in all regions. Please contact a representative for details.
SOLUTIONS FOR APPLICATION
FOR LARGE COMMERCIAL FACILITIES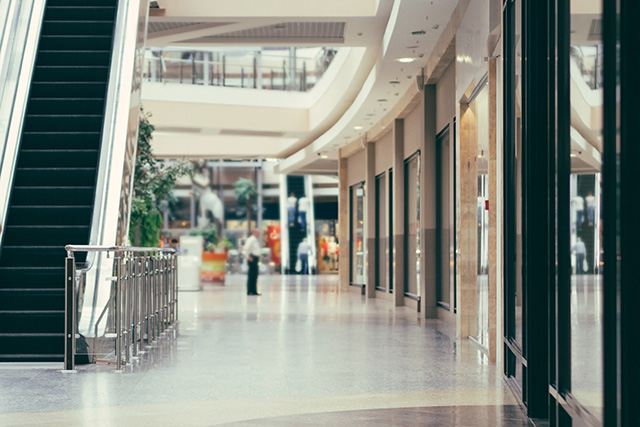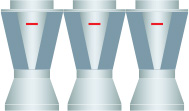 Combined module units minimize the installation restrictions, and eliminate any issues with installation space.
FOR MACHINERY COOLING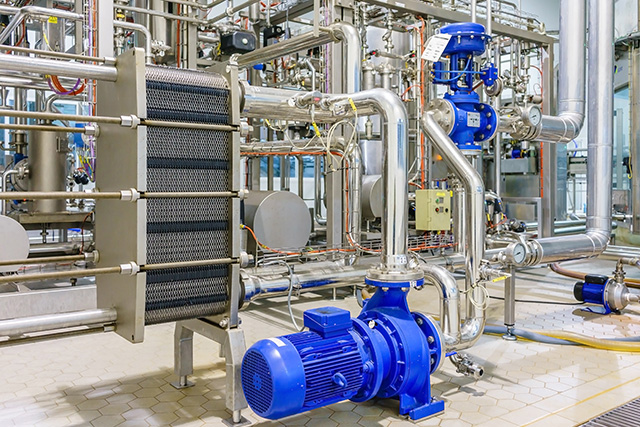 FOR CLEAN ROOMS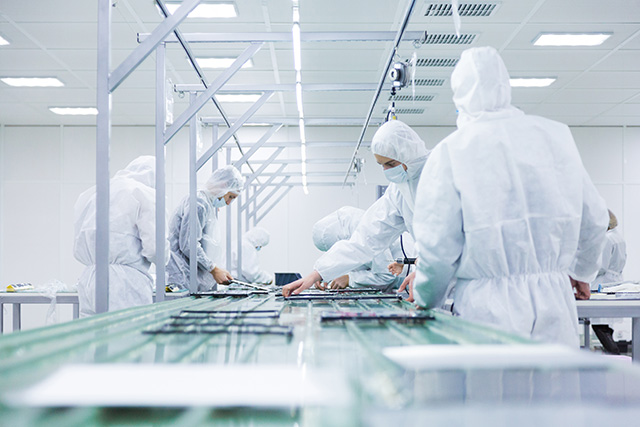 DISTRIBUTORS
SELECT YOUR REGION
Availability :

The products or features may not be available in your country.
Please refer to your local website for details if it is available in your country.