For light commercial and business environments, Toshiba's SDI series air conditioners offer high energy efficiency and performance in a compact body. This flexible unit delivers high performance in a wide range of ambient operating temperatures, for single, twin or triple indoor unit applications.
FEATURES
SUPERIOR EER
Very efficient energy consumption, keeps down operating costs. EER of 4.52* and COP of 4.79* achieved by Toshiba's unrivalled Super Digital Inverter technologies and newly developed components.
*4HP outdoor unit

THE INDUSTRY'S FIRST MAGNETIC-ACTION CONTROL
The new structure allows a huge reduction in energy loss. The balanced magnetic-action force to rise and the rotor's weight minimized the friction laid on the axis provides excellent operation efficiency.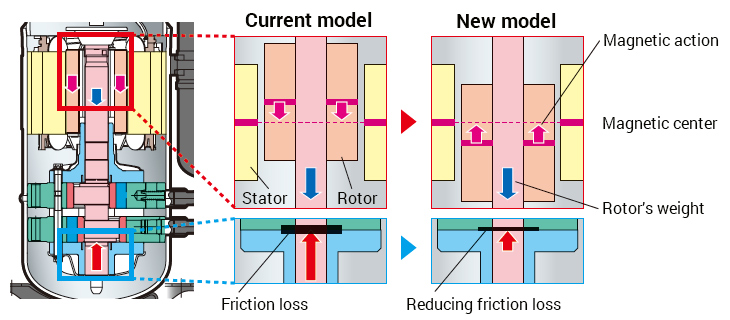 ECO-DRIVING DC TWIN ROTARY
A low minimum speed of 10 rps has been achieved. This has further improved the operating efficiency when the load is low (the minimum in Series 2 was 15 rps).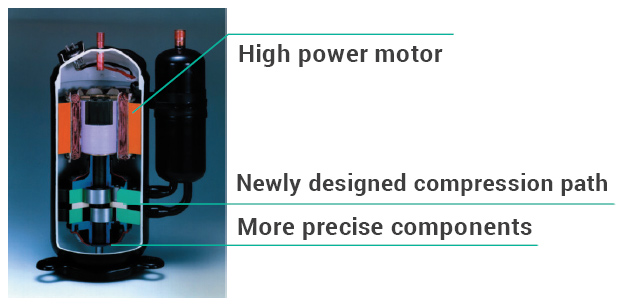 The structure and shape of each compressor component has been optimised. The area of the rotor magnet has been increased and a slit introduced to the design. These improvements have further enhanced efficiency and reduced noise.
LINE UP
OUTDOOR UNITS

1.5, 1.7, 2.0HP

3.0HP

4.0, 5.0, 6.0HP
INDOOR UNITS



New


Compact 4-way cassette

4-way cassette

Slim duct

Standard duct

Ceiling

High wall
DISTRIBUTORS
SELECT YOUR REGION
Availability :

The products or features may not be available in your country.
Please refer to your local website for details if it is available in your country.