Toshiba's Multi-Split system allows air-conditioning operation to up to five units from a single outdoor unit, making it an exceptionally flexible solution for large residential spaces. It's small footprint and flexible piping enables installing the outdoor unit virtual anywhere and out of sight.
Each indoor unit can be individually controlled for even more efficiency and comfort where and when needed.
FEATURES
HIGH ENERGY SAVINGS
Toshiba high quality multi split systems contribute to drastically reduce the operating costs and increase the energy efficiency. The multisplit 5:1 outdoor unit has reached high in partial load conditions where the Toshiba inverters deliver their best perfomance.
Toshiba new Super efficient DC Twin rotary compressor enables top class performance at low energy consumption. With this efficient unit, operating costs decrease dramatically, compare to other multisplit systems.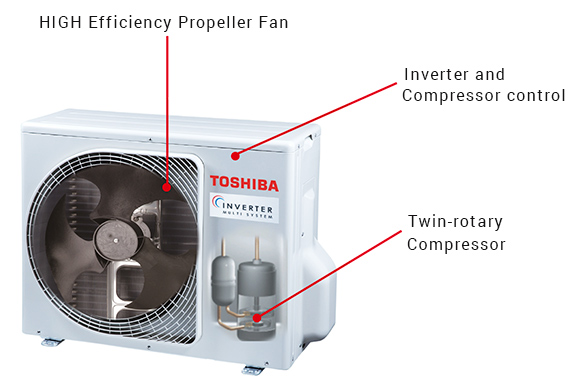 COMFORT
Toshiba Inveter Multi systems installed feature higher standard of indoor air quality, sound levels and enviromental awareness.
Special attention has been dedicated to the comfort during the night, with the improvement of the silent operation mode, available in indoor units.
FLEXIBILITY
One outdoor unit can serve up to five interior units for exceptional flexibility and reliability.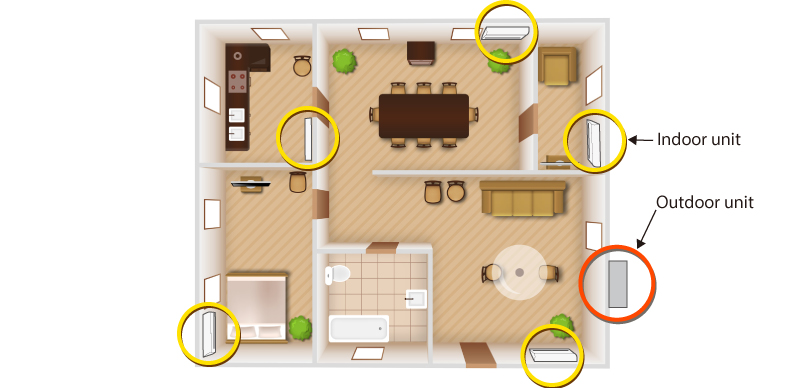 Toshiba Inverter Multi system outdoor units are lightweight and compact. Just one outdoor unit takes up little space on a wall or in yard. It keeps the exterior of buildings neat with quieter operation.

Choosing from four types of indoor units, High wall, Ducted, Compact 4-way cassette and Console type to suit housing design.
High wall
Ducted
Compact 4-way cassette
Console
LINE UP
OUTDOOR UNITS

2-rooms

3-rooms

4-rooms

5-rooms
INDOOR UNITS

High wall

Ducted


Compact 4-way cassette

Console
DISTRIBUTORS
SELECT YOUR REGION
Availability :

The products or features may not be available in your country.
Please refer to your local website for details if it is available in your country.